The renowned on-chain analyst Dylan LeClair is taking a look at Bitcoin market sentiment by uncovering some key on-chain metrics.
Covered:
Bitcoin Exchange Flows
Leveraged Bitcoin Market Sentiment Is On The Fence
BTC Illiquid Supply Change
RECOMMENDED: ON-CHAIN DATA SHOWS BITCOIN NETWORK IS GROWING STRONGER THAN EVER
Bitcoin Exchange Flows
The first piece of Bitcoin on-chain data from Glassnode that LeClair is sharing analyzes the exchange flows over the last 30 days. Based on the data, it appears that holders have been pulling their BTC off exchanges at a rapid pace in the last month.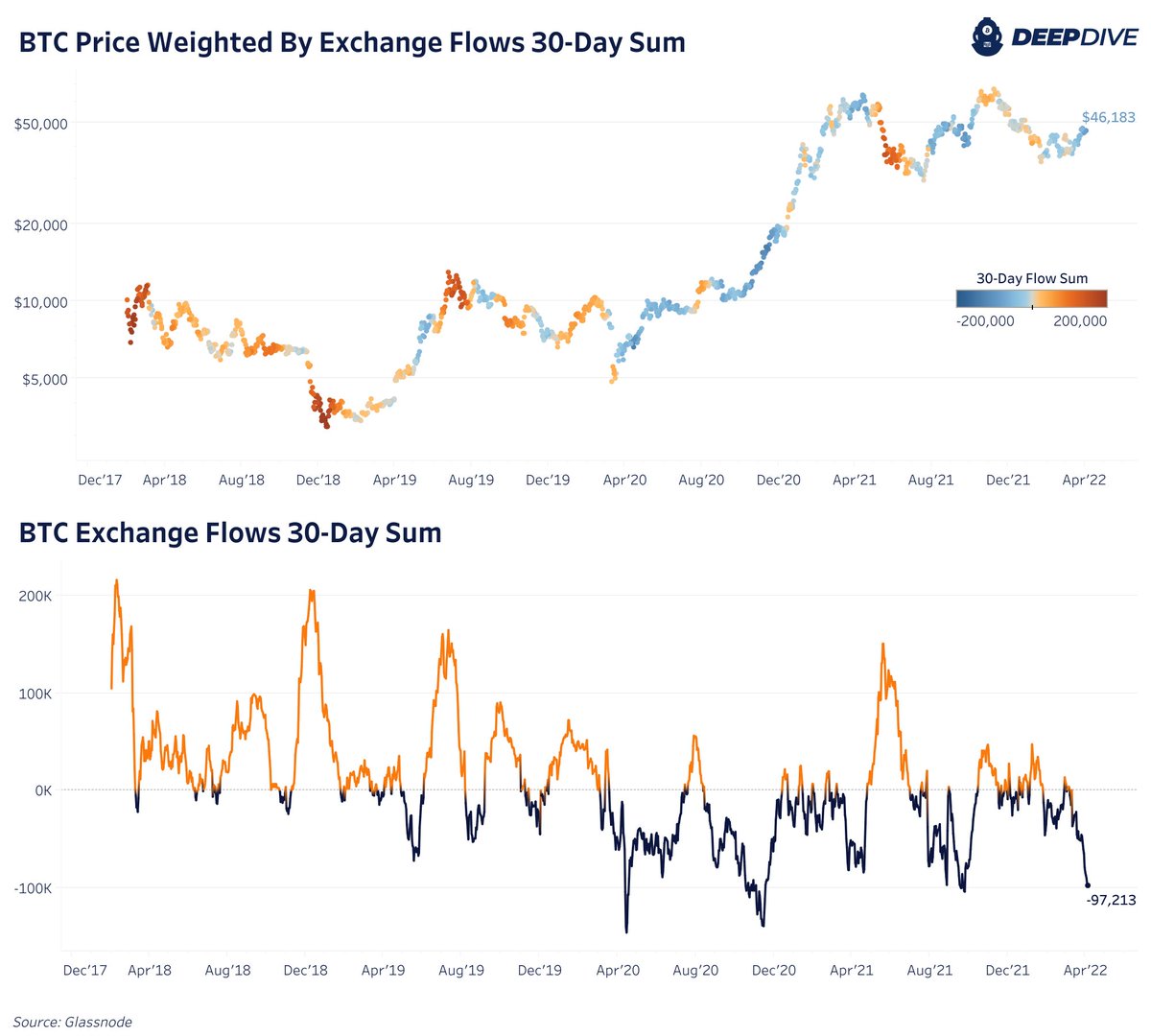 The first chart shows that when Bitcoin is getting pulled off exchanges (shaded blue), which tends to correlate with strong uptrends as supply on the market dries up, whereas a red/orange shift in flows tends to signify market dumps.
Along with outflows of Bitcoin, March 2022 also appears to be the second-largest month of outflows in the history of Bitcoin's existence.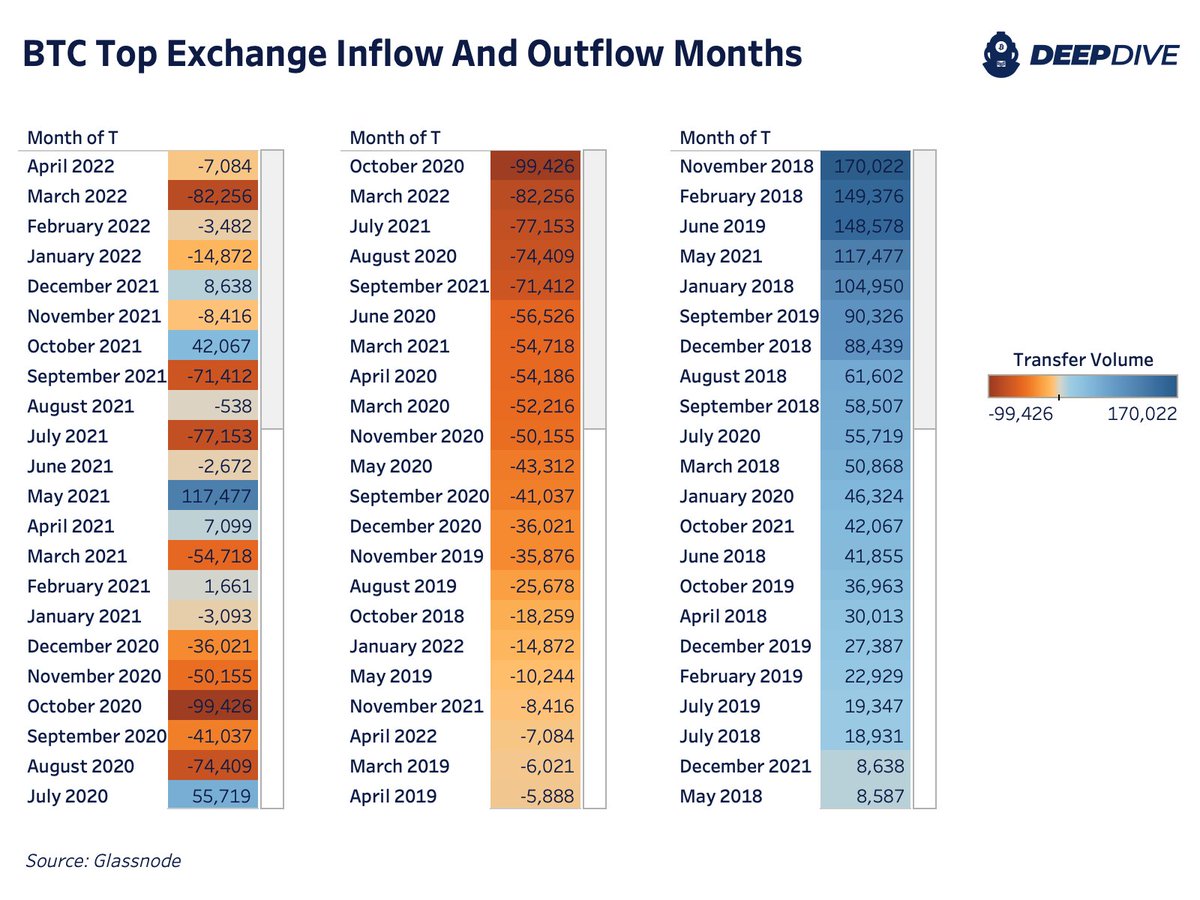 Leveraged Bitcoin Market Sentiment Is On The Fence
Next up, LeClair takes a look at the derivatives market for Bitcoin, analyzing how leveraged market participants are at the moment. In general, as the market turns more bullish, traders also turn more greedy. When the market turns blue, that means more traders are net long on the market, whereas red indicates greater fear, leading to less leverage in the market.
The most recent uptrend is turning blue, showing that more traders are getting leveraged as greed rises. This could spell bull or bear depending on your perspective, so greater macro context should be weighed into consideration to see whether getting leveraged is a good idea right now.
"Calm waters in the land of BTC derivatives."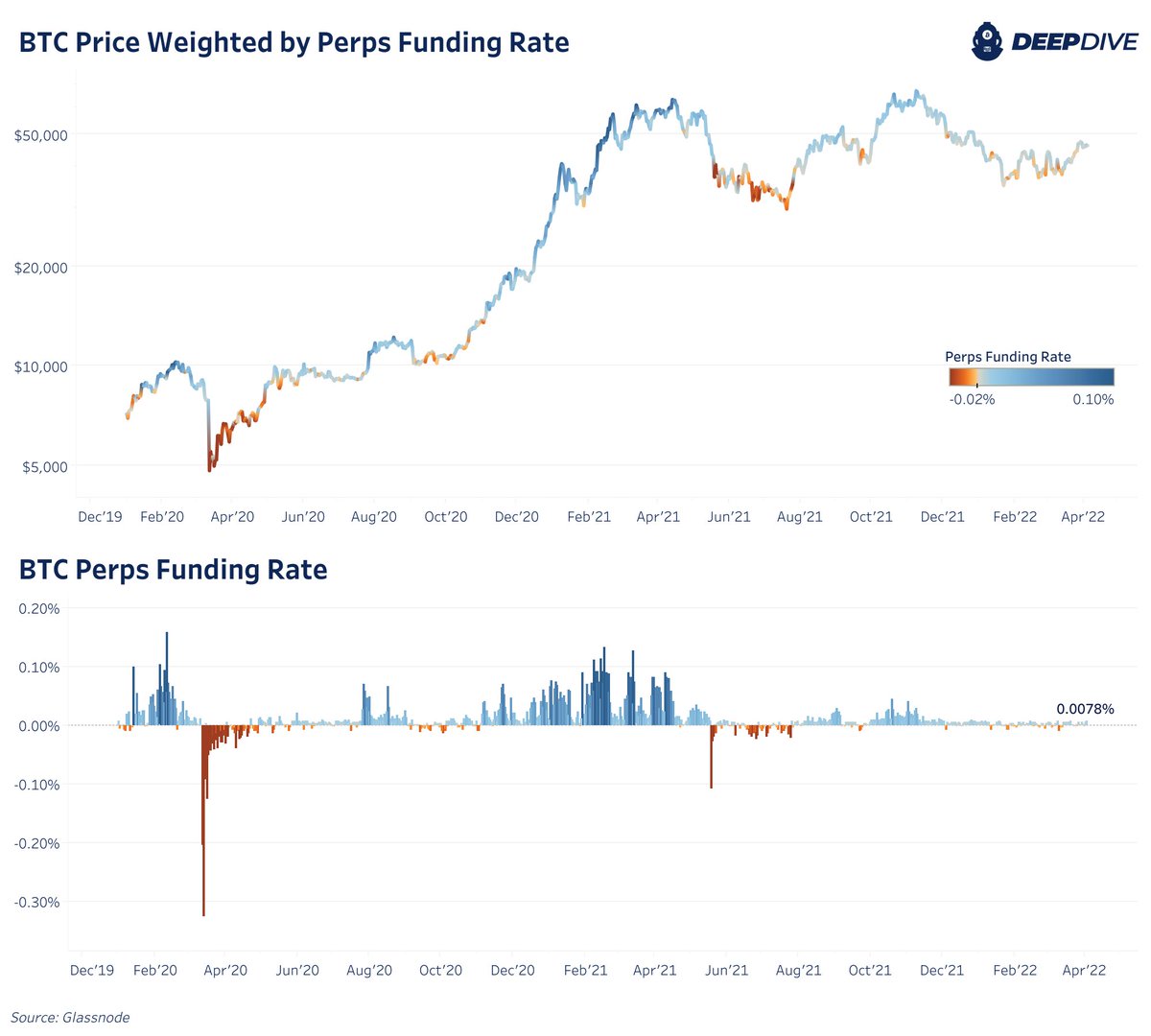 RECOMMENDED: RUMOR MILL: BITCOIN + APPLE? BITCOIN 2022 CONFERENCE HINTS
BTC Illiquid Supply Change
Lastly, LeClair looks at the rate at which Bitcoin is becoming more illiquid, basically indicating that there's less supply on the market to go around. This is historically a very bullish sign for the market sentiment of Bitcoin, as it shows that market participants are not willing to sell off their Bitcoin at current prices.
"Strong hands [are] accumulating Bitcoin at a feverish pace."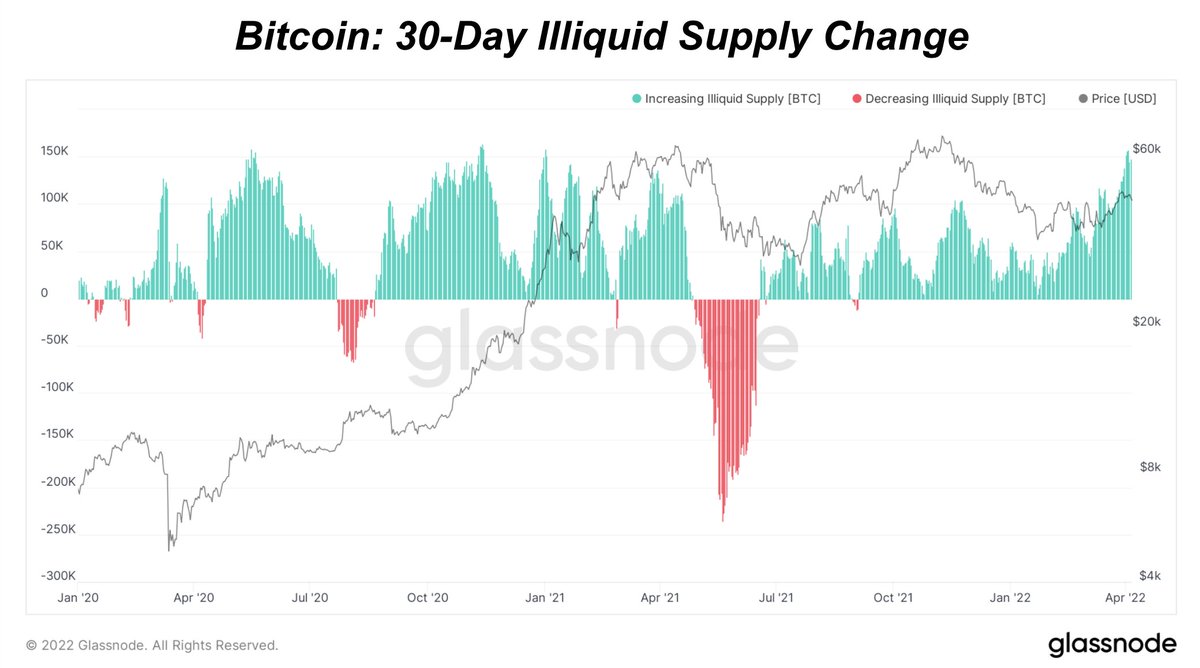 Since the bear cycle bottom of the summer lull back in 2021, the 30-day illiquid supply change has been growing month after month and appears to be going parabolic since Bitcoin bottomed after the latest downtrend began.
If you'll notice from the first sell-off in April 2021, the final run-up to $60,000 before capitulation began running deep into the red before things finally fell off a cliff. If there's anything we can take from the most recent green rise, it's that strong hands have no intention of selling off their bags.
That's where Bitcoin market sentiment is lying right now. While on-chain data shouldn't be taken as gospel, it's a helpful way to look behind the curtain of just price charts and see how holders are behaving behind the scenes. Their behavior right now is clearly telling us that they are anticipating more upside to come in the future.