The first-ever cross-chain GameFi platform DeFi Kingdoms is already talking about further expansions — and Terra (LUNA) might be next in line.
Covered:
DeFi Kingdoms On Terra?
DeFi Kingdoms' Multi-Chain Vision
ofc

if its a cool thing on red chain i will try it out

— Do Kwon 🌕 (@stablekwon) April 4, 2022
RECOMMENDED: A LOOK BEHIND THE CURTAIN OF DEFI KINGDOMS' CRYSTALVALE LAUNCH
DeFi Kingdoms On Terra?
Terra (LUNA) founder Do Kwon seems to have taken notice of DeFi Kingdoms' Crystalvale launch on the first-ever Avalanche subnet last week, and it looks like he might want a piece of the action. Could we be seeing DeFi Kingdoms take to the stars in the future?
Hi @stablekwon If interested, I'd be happy to set up a call to walk you through the multi chain P2E game , LP staking options, dynamic NFTs, and roadmap ahead. 🙏

— Dreamer (@DreamerDFK) April 4, 2022
DeFi Kingdoms' founder Dreamer promptly responded with an inquiry to teach Do Kwon more about the multi-chain GameFi platform, which we can assume means that he's quite interested in bringing DeFi Kingdoms to the Terra blockchain.
It's important to recognize, however, that no expansions are planned in the immediate future. The devs have talked about focusing on building out the game experience on Harmony and Avalanche before thinking about moving to other blockchains. A smart move, in my opinion, as it's better to have a fully-fleshed out game ready to ship rather than spreading the team too thin working on a half-baked game across multiple different expansions.
Our immediate focus is to build the two beautiful DFK Realms we have (Serendale on Harmony and Crystalvale on Avalanche Sunbet, DFK Chain), for a multi chain P2E gaming experience and gamefied DeFi platform with more to come on land, PVP, PVE, pets and more.

— Dreamer (@DreamerDFK) April 4, 2022
Take a look at the game's roadmap here to get an idea of what is yet to come for DeFi Kingdoms.
A move to the Terra blockchain would be a perfect fit for DeFi Kingdoms' future expansion. Not only would it usher in a wave of new users coming from one of the fastest-growing blockchains on the market right now, but it could bring a fresh new take on the typical DeFi Kingdoms experience. Not every map has to follow the typical medieval, dungeons & dragons-like design — let's see some space stations, aliens, and planets floating around the map.
Gonna need a spaceship at the docks.

— babanesta.eth (@thefakericardo) April 4, 2022
DeFi Kingdoms' Multi-Chain Experience
The potential move to Terra lays out the path forward for what Dreamer envisions for the future of DeFi Kingdoms: an all-in-one gamefied DeFi experience attracting crypto natives across all different ecosystems.
Specifically, the team has talked about bringing hosting the blockchain game on five different platforms, as discussed on the DeFi Kingdoms' Discord back in November 2021.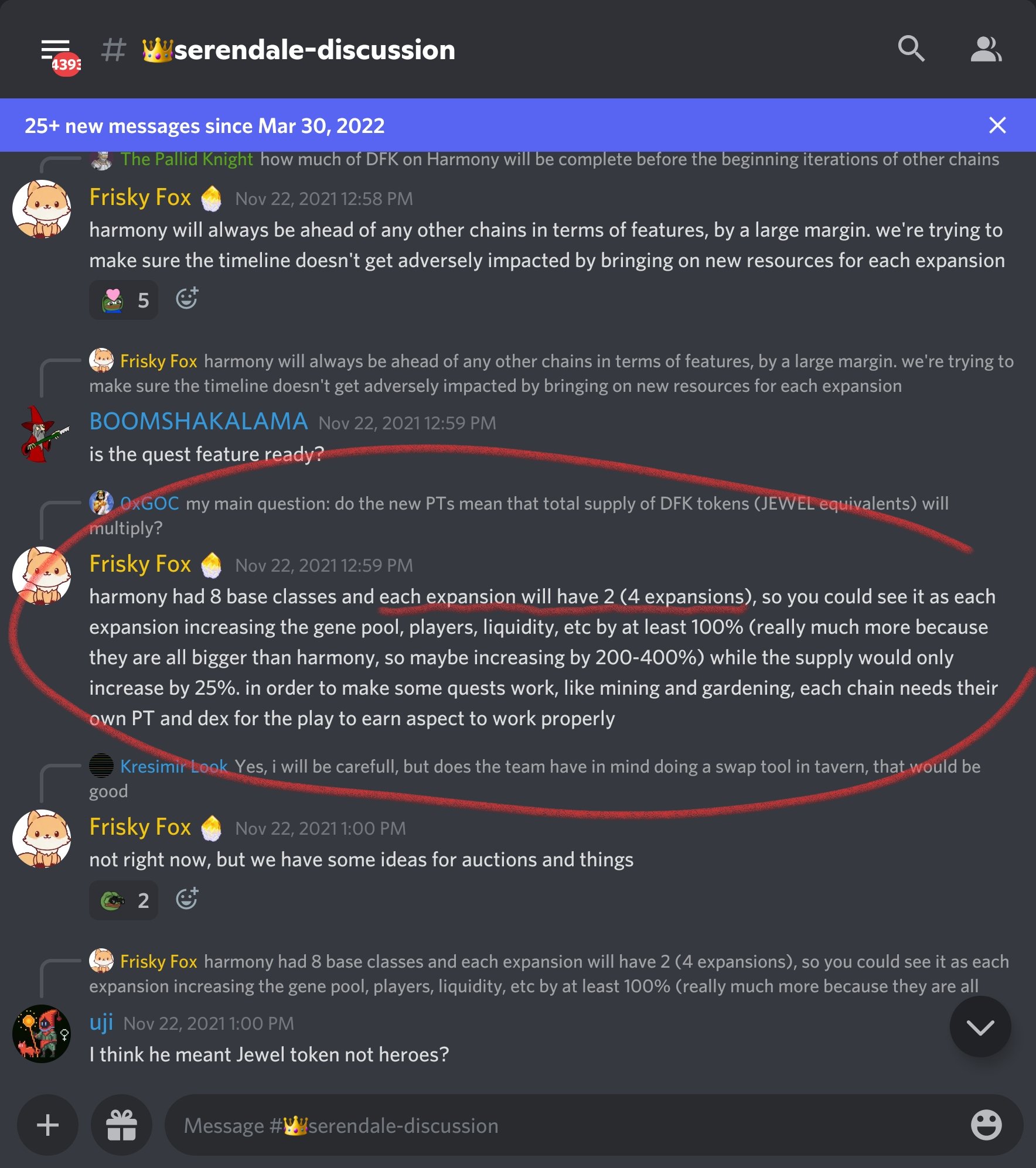 We've seen DeFi Kingdoms land on Harmony and Avalanche already. Now with talks of the GameFi project coming to Terra, that begs the question of which two other blockchains the DFK team has in mind. Only time will tell…